Nav:HOME ---- Fishing Articles ---- Striper Mania in the Merrimack River (YOU ARE HERE)
---
Striper Mania: Merrimack River
NOTE: check at Surfland or any bait shop or online at the Massachusetts (mass.gov) Dept of Fish and Game for regs and licenses.

Driving down 1A through the Seacoast section of New England, one can see three hundred years of history on the way to some of, if not the, best striper fishing on the east coast. Newburyport, a bustling summer tourist haven, features numerous small 'shanty-style' seafood shops sharing the street with multi-story mansions displying their widows' towers (the legend goes that the mates of fishing captains ans whalers would watch the horizon from these bell-tower looking observatories, solefully awaiting their loves. Too many times during thee days of the great sailig ships, their gazes sought only the empty horizon, as a storm had claimed their spouse.). The road to Plum Island passes over the salt marsh that lends it fertility to the Merrimack estuary. Plum Island itself is divided into a state park over it's southern half, and a series of public beaches and beach houses over it's northern half. Travel to the islands northern tip and hike down to the sand.
Be especially weary of the tide charts, as the stripers bite best on the incoming tide (tides run 6-8 feet here, so avoid fishing from an area that might be under water when the tide rises). Look for the crowd, as rows of anglers will line the most productive sections on the shoreline by sunset. My fist cast was aimed for a whirlpool 100 yards out in the swiftly swirling incoming current. As soon as it sank into the cool blue green water, the pecks of the smaller 'schoolie' stripers and flounder began, and soon I was deprived of my mackeral hunk. Thinking these fish were very small (I thought only 12in or so!), and after 15 minutes of loosing bait, I sized down the bait chunk and cast again. This time after the initial pecks, I felt a slightly more sustained tug and lightly set the hook, expecting to crank in a small keychain-sized striper with little resistance. Fortunately, the 'taps' I thought were small-fry were acctually from drag ripping 8-pounders!! After my suprise tug of war, I found that the beached 8-pounder was only 29in and had to go back, because in Massechusetts, unless its 34" it is undersized! Nearly every cast was bit within 5 minutes of hitting bottom, and as long as I had bait, I caught fish. As long s the tide lasted, the stripers bit, and as the sun set below the horizon, one angler (not me!) caught a keeper and got his picture on the wall of fame in Surfland, with a 25 pounder. But I did catch a nice 26 incher shown below.
Where to get Bait/Tackle: Surfland bait and tackle is a surefire bet. It is run by some very friendly Plum Islanders who are open until 5:00 PM most days and open by 7:00 AM from March till October.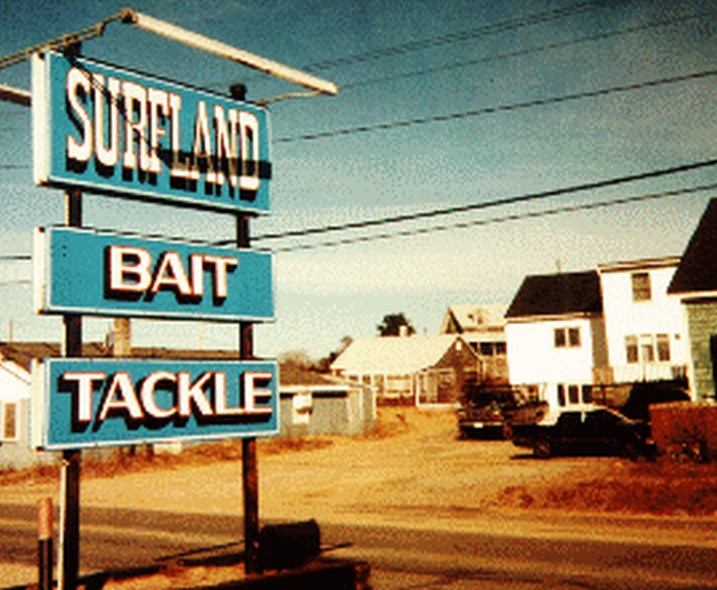 They have shorter hours in the off season and only open on weekeeds in the winter. While there take a peek at the wall of striper photographs that decorate the walls and supports of the shop, spanning 50 years of fishing, with some biggies weighing in the high 50's.
State Regulations: see Mass.gov for latest. MA Recreational Saltwater Fishing permit is required.
---
HOW?
Back to top
---
WHERE AM I?
How to get there: From Boston take Interstate 95 North to exit 54 and turn East on Hwy 133. Take Hwy 133 unil it intersects Hwy 1A. Turn left (North) on 1A and drive for 7 miles to Newburyport and follow the signs to Plum Island (a left turn). Once you cross the saltmarsh turn left at Surfland bait shop to the nothern tip of the island. Park (pay fee) and walk down to the river. Fish anywhere from the boat docks to the jetties.
---
Latest Reports | Fishing Articles | Fishing Tactics | Fish Ecology and Biology | Travel Articles | Fishy Fun | External Links | Shopping | HOME
All Content, Images, Text Copyright © 1993 to 2015 and beyond Bryce L. Meyer Combat-Fishing.com. Trademarks are properties of their respective owners, Combat-Fishing® and the Fish and pole logos are trademarks of Bryce L. Meyer.