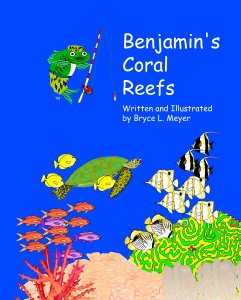 Description: A world of colorful and fantastic fish and animals await in Benjamin's Coral Reefs, the seventh book in the Fishes and Whales Series. Readers, or those read to, from 0 to 110, will learn all about coral reefs and the fish that live around them. Seventy-two species of fish, sea turtles, sea snakes, anemones, sea fans, and corals of many types are shown in real world ecologies, with sharks, butterflyfish, groupers, snappers, ballyhoo, jacks and trevally, damselfish, angelfish, and lionfish, among them shown as they live. Around the world in 28 pages, from the Red Sea to the Indian Ocean, to the Great Barrier Reef, to the Hawaiian Islands, to the Central American Pacific islands, to the Florida Keys and Caribbean. A handy fish identification guide, detailed enough to match against real fish in the wild or aquarium, is at the end, and the reader can hunt for the fish in the pages inside. Young children will enjoy the colorful pictures and calming blues, older children the science and wildlife. Learn and discover coral reefs and enjoy the wonders they have to explore.
LCCN: 2014907953
ISBN-13: 978-1499253627
ISBN-10: 1499253621
Available from most on-line sources including: Amazon and Barnes and Noble and other book sellers
Read the Midwest Book Review book review here, Jul 2014.