Nav:HOME ---- Fishing Articles ---- PARTY BOAT FISHING ON THREE COASTS (YOU ARE HERE)
---
<
---
Fishing Party Boat 101 on 3 Coasts
Click here to see the Hawaii Equivelent--a split charter, scroll down to fishing
---
What is a Party Boat?
Party Boats, also known as Cattle Boats, Head Boats, and 'Open Party' boats are a catagory of commercial sportfishing boats that instead of charging a fixed fee for the entire boat and scheduling around a small set of customers (Like a conventional Charter Boat-by the way the contract specifying the cost for a voyage and number of passengers is the definition of a Charter), charges a fee per passenger for regularly scheduled trips. Like a train or plane, the boat has posted departure and return times, holds a set number of passengers, and charges the same fixed fee for all voyagers. The numer of anglers (i.e. passengers) on a trip depends on the size of the boat, and the cost of the trip. The less the trip costs, and the bigger the boat, (also the shorter the trip), the more people will be on the boat. If the trip is taken during the local tourist season, and the trip is during the day, expect a large number of 'riders'(people who go out just for the ride-not to fish) and extremely novice anglers. If you want to avoid the crowds take trip during bad weather, off-season, long trips, or 'limited party' (costs more hence fewer folks). Etiquete is a MUST for party boat fishing for both your sake, other anglers, and the crew (see the General Rules below).


---
What Should I always Bring and the General Rules of Party Boat Fishing?
First one must know the etiquete of party boat fishing:
1) Always obey the Crew and Captain. Their goal is to keep you and all the other anglers happy, since with out your money they will go broke. Most of the time, with a good professional crew, this is not a problem.
2) Always be aware of those around you (right, left, and when casting-behind).
3) Be knowledgable of local species, and local laws-DON"T EVEN TRY TO BREAK THEM. Often a single illegal fish on a boat can result in very large fines for both boat Captain and the offending angler. When in doubt, ask the crew or release the fish.
4) Exercise patience, kindness, and courtesy. Cursing loudly, while common among most of us anglers when fishing alone, can offend others on a party boat. Never drink excessively (if allowed at all). If your lines get tangled, don't get frustrated or try to assess blame-it goes with fishing elbow to elbow, and can be a good way to MAKE friends.
5) AND THE MOST IMPORTANT RULE: HAVE FUN! A party boat is a great place to meet other anglers and 'trade lies' as anglers often do. I have kept in contact with some of the people I have met this way, and they have become friends for life. Yes, there is more to fishing than just catching fish.
What should I bring on a party boat?

1) Food, Beverages (I recommend fruit juices and soft drinks-while I do occasionally indulge in moderation in alcholic beverages, I find that they hurt my fishing abilities and make me take too many trips to the 'head'. Also, some boats prohibit alchohol on board.) Some boats sell food and drinks on board so check with the boat before going out.
2) A camera (sealed in a Zip Lock Bag to prevent it getting wet).
3) Extra Clothing (much colder on the water then on land)
4) Rain Gear
5) Sunscreen and Polarized Sunglasses
6) An old towel to wipe your hands on (Trust me-this is a must)
7) Non- Marking, no-slip, warm shoes that can get wet.
8) A cooler to get your fish home in (you probably can leave it in your car at the dock).
9) Tools: Plyers, Scissors, Folding Knife, extra line, and a tackle box or bag that can get wet.
10) At least 3 Bungee Cords or lengths of rope: To tie all of your gear down and keep it from slapping around.
11) Sturdy Fishing Tackle (Specifics in each section below)
12) A waterproof bag or heavyplatic bag to put you non-fishing gear stuff in.
13) Any specialized baits not provided by the boat (call the boat first, more to follow below)
14) Cash in small denominations (usually I bring $40 in ones and fives, and $3.00 in change, though I very rarely spend more that half of it on a day trip). You will need it to tip the crew (ask what is customary), to buy extra tackle, to pay for fish cleaning, to buy snacks, to put money on the 'Big Fish Pool', etc.
15) Asprin (or equiv.) and/or dramamine (for those sea-sick prone-take one BEFORE you leave the dock)
16) DON'T EVEN THINK OF BRINGING A GPS or other navigation equipment. The coordinates of wrecks and special fishing spots are the bread and butter of most boat captains, and they will do nearly anything to guard them. Attempting to wrest these precious numbers from a captain is akin to trying to find out and use your credit card number!
17) A GOOD ATTITUDE!

Whew! Sounds like a lot of stuff but without these items you may loose some of the fun in your trip.


---
San Diego (So. Cal.) Party Boat Fishing in the Pacific

(and a little about Ensanada BC Mexico)

,

Some of the most exotic and definitely the greatest variety of party boats trips in the Continental U.S. can be found leaving from San Diego. Alternatively in the LA Area, Newport Landing has interesting trips to the islands for Tuna, white seabass, and bottomfish. The 'mission' city has two primary party boat ports: a big three-company landing that has Sportsman's Landing, Point Loma Landing, and H&M Landing, all on the San Diego Harbor near Shelter Island off Roscrans Blvd (+ Scott Blvd), and the Mission Bay Docks (Seaforth Sportfishing is the primary group here) on Mission Bay near Sea World of San Diego. From either set of docks, depending on the time of year,

you can find trips from 6 hours (known as a 1/2 day here) to 14 days, fishing for everything from bottom fish (several species of Scorpionfishes , Lingcod, California Sheephead, California Halibut, Calico Bass, Sand Bass, White Sea Bass, Dorado, and many more), seasonal surface fish (California Yellowtails, Pacific Barracuda, Pacific Mackerels, and several Tuna species including bonito, albacore, yellowfin, and bluefin), Mako Sharks, Thresher sharks, Striped Marlin, Wahoo.
My personal favorite trips are the summer 6 hr, 1/2day and 3/4 day trips to the kelp beds off La Jolla in the and around the some of the local islands. The trips usually start around 6:00AM and return around 5PM. After a short trip to the live bait barges, where the boat fills its tremendous live wells with anchovies and sardines (by the way-if you bring a light 8lb test rod and a small rubber tail or marabou jig you can have alot of fun catching Calico bass and mackeral while the boat is stopped), the boat coasts over the swells to exit the bay and enter the Pacific. The ride then is only usually 1-2 hrs to the kelp beds. As the boat anchors, a deckhand climbs atop the massive live wells and begins pitching netfuls of anchovies into the water behind the boat. Within minutes the water begins to 'boil' as barracuda, yellowtail, and tuna, converge on the hapless baitfish. Every angler when they leave the dock is issued a number, and as the day progresses, anglers rotate by number to the very back of the boat to fish in the thick of the live chum slick. This of couse doesn't mean you can't catch fish at any other position on the boat, it just means that you have the opportunity to fish for a while in the most active part of the chum slick. The last trip I caught about 60% of my fish while in the back of the boat, mostly barracuda, but my largest fish and all the large mackeral, and the only yellowtail I hooked came from my starting position on the side of the boat. This is one of the only type of party boat trips I know that encourage the use of 8lb-20lb test (read on about the New England and Destin trips to realize how nice this is), and where your can see and cast to surface busting fish. The By the end of the trip all anglers are exhausted and completely covered in blood, scales, saltwater, and fish slime (but with a BIG GRIN!). Tackle should be a baitcasting or heavy spinning reel with a good drag and that can hold at least 300 yards of 10-25lb monfilament like the Penn 555GS, 500, 650, 750, 850 (or any Newell) with a long rod and flexible tip. These fish are VERY line shy, so mono should be clear or olive green-NEVER flourescent! The rigging is simple-tie the line directly to a short shank baithook, and use either trolling (torpedo), split-shot, or rubber core sinkers one to four feet above the hook if the fish are hitting deep. Hook the baits through the lips, eye, or nose, and cast carefully. A large variety of lures work, including diamond jigs, iron casting jigs, tin squids, spoons, bucktail jigs, and plugs (just see what the other anglers are bringing on board or ask one of the mates since the fish can be fickle as far as lure color and type go).
Another type of cheap and exciting, but VERY exhausting, trip, are the winter trips for bottom fish. This type of fishing is very similar in tackle and technique to both Gulf and Atlantic bottom fishing, but with very different species of fish. Employing 20lb-50lb tackle (Penn 3/0, 4/0, 6/0, 9/0), and 16oz-36oz weights (.5kg to 1.5kg-very heavy), the anglers take the same live baits plus squid to rock bottoms in 150 feet to 300 feet of water. Lures include large metal jigs (diamond jigs, etc.) and very large curly tail and bucktail jigs of 6oz-32oz. Due to the depth, current, and massive weights, this type of fishing will exhaust even the most fit anglers, but will also result in the largest numbers and varieties of fish. The last trip I took of this kind was out of Ensanada, Baja California, Mexico. Ensanada is a three-hour drive south of San Diego (remember to get Mexican driving insurance and licenses) along a beautiful coast side highway, and as a fishing port straddles a small bay. Their ae numerous boats that are very inexpensive and cater to both spanish-speaking and english-speaking anglers. The waters that would normally take a full day to reach by boat from San Diego are accessable during a 12 hour trip from Ensanada. Once departed, the boat stops at the bait barge and picks up sardines and anchovies, then travels 1-2 hrs out to several outcropings and kelp beds offshore. After rigging a two or three hooked bottom finder rig (#4-3/0 hooks), and pegging an anchovy, cut mackeral, or squid to each hook (minnows hooked through the nose), the baits are lifted over the side, and lowered to the bottom 200-300 feet down (a very long way!). Usualy bites are instantaneous, and usually at least one fish is brought up after a couple of minutes of furious cranking. Occationally, a small bite is followed by a large tug as a lingcod or black sea bass eats the rockfish, adding a little more excitement to the experience. Like most bottom fishing, however, large numbers of 1lb to 5lb fish are the norm.
(add in links)

THINGS TO REMEMBER:
California Fishing Licenses are required (sometimes Mexican Licenses as well) and are usually NOT included in the price of the trip. ($8 per day for California or Mexico)
Rod/Reel rental is usually NOT included in the trip price ($6-$10/day)
Bait usually IS included in the price
A burlap bag for the fish is NOT included for short trips(cost is $1.00)
Since California boats are large (typically 80-120 feet long) they often have a mini-resturant(a.k.a galley) on board-a good place to catch a snack or breakfast on longer trips).
---

New England Party Boat Fishing in the Atlantic (Plymouth Massachusetts)




Ironically, one of the largest party boat fleets in New England (Capt John's) has its port only a half mile from where the Mayflower landed (Plymouth Rock), and as a result leaving from Plymouth on a trip also has the side benefit of a quick tour of the harbor and a good view of old lighthouses and a replica of the Mayflower. The water in both Cape Cod Bay and in the Atlantic is cool year round (like southern California), and in both summer and winter most trips focus on bottom fish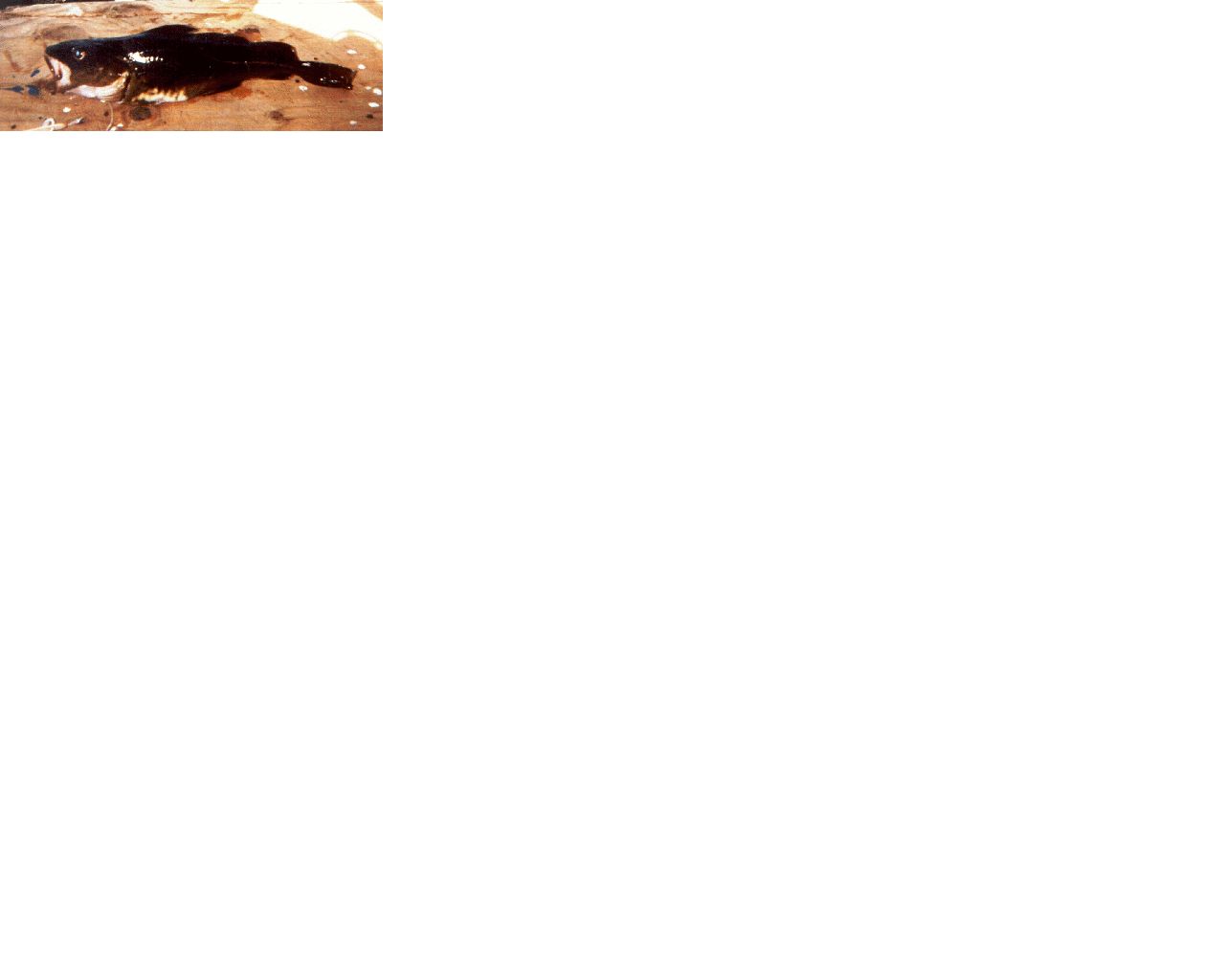 Atlantic Cod like the one above, Hake, Pollack, Flounder, Scup, Tautog, though in summer a few trips are offered for bluefish at night, and in late summer for tuna (overnight trip). The bottom here is strewn with rocks, wrecks, and lobster pots, and few trips end without loosing at least 4 or 5 weights and a couple of jigs (diamond jigs mostly). The trip from the dock to the fishing grounds for most 1/2 day trips (4 or 6 hours here) are only 20-30 minutes from the dock and in sight of land. The boat parks over the wreck, sound the drop horn (which means you lower your baited hooks to the bottom), and usually anchors for about 30 minutes before moving to another wreck. The bait provided by the boats here is clam (very slimy and smelly!! remember that towel I was telling you to bring above), which usually raided in seconds by pesky bergals who will pick at the bait with weak taps. The angler who can exercise willpower will not strike at these taps but instead will wait for the yank of a larger fish. An angler with even more willpower will strike at the first yank, but will not reel up until it is followed by a second yank from a second fish, resulting in a 'double'. If any two anglers pull up sharks (usually sand sharks and spiny dogfish), the boat will sound a horn to pull up the lines, the mates will curse, and the boat will immediately move to a second wreck! On longer trips (8hr, 10hr, 14hr, 20 hr all are called 'all day') the boat will travel out of Cape Cod Bay to one of the wrecks in the open Atlantic. These longer trips are not for the faint of heart (especially in the Winter), and will require high quality raingear, cold weather gear (most of the year), and good non-slip water proof boots. In winter, I must empasize that cold weather, watreproof gear is an absolute requirement, or you will suffer hypothermia (and most captains will allow you to board their vessel). The winter longer trips are hard on the fisherman but result in spectacular cod, often over 20lbs and some bigger! Any long trip in New England will tax your arms as well, since like the bottom trips in California described above, heavy weights and gear are used due to the deep water and very strong currents. The rig here for all bottom fishing is the basic bottom finder with 1/0 to 7/0 long shank hooks (at least two drop loops), and for lures the diamond jig and bug combo. Inshore 4oz-16oz weights and jigs are used, while on the long trips 10oz-36oz weights and jigs are used. Inshore, use 15lb-20lb tackle (Penn 500's and 3/0's are very popular) if you want to have good catches, though this will usually mean that will either have to bring your own or find a place near the dock that rents it. Offshore, the boat tackle rented tackle will probably suffice (Penn 4/0-12/0). Remember to keep your ticket stub, as most boat offer prizes for the biggest cod and have a door prize drawing.
THINGS TO REMEMBER
Check on licenses for saltwater fishing in Massachussetts
Rods must either be brought from home or rented, i.e. rod rental is NOT included
Bait IS provided (Clams- which work pretty well)
Most boats have only a snack bar which sells sodas and microwavable snacks at high rates (Bring your own!)
---

Gulf of Mexico Party Boats (Destin & Tampa Florida)
Related Articles:

Each place adds its own flavor to the party boat mix of fishing and fellowship, and Florida's Gulf of Mexico is no exception. The warm waters of the Gulf host several colorful species of fish, including the prized Red Snapper. Like cod in New England, or yellowtails in Southern California, the red snapper is the holy grail for the party boat angler's quest.
Like most party boats anywhere, the bulk of fishing here is done on the bottom on reefs in 80 feet to 180 feet of water. Unlike California or New England, however, the Gulf is largely sand, essentially an aquatic desert with reef 'oases'. A good Gulf partyboat captain will have literally thousands of coordinates for reefs and geographic features, which he/she will alternately fish (like crop rotation). If the captain spots another boat attempting to move near the vessel, the captain will move the boat immediately to guard the secrecy of the spot. Unlike anywhere else, very precise boat handling and constant adjustment is required to hold the boat over the exact location of the reef, and a difference of 30 feet can mean the difference between lots of bites and no bites. The boats in Destin, Tampa-St.Petersburg, Sarasota, Panama City, etc. will usually drive the boat for over an hour from the dock before stopping to fish, and for an 8hr or longer trip expect to travel at least 2 hours each way. When the boat gets within 300 yards of a reef, the captain will slow the boat to a crawl and use sonar to pinpoint the reef and to see if any snappers are present. Then he/she will have the mate cast a marker buoy over the reef and disengage the engines to check the wind and current. Finally, once the captain is happy with the boat position relative to the reef, the captain will sound the horn to drop the lines and fish (and tell you how many feet above the wreck the fish are holding-see Reef Layout for how fish hold over a reef/wreck). While nearly all Gulf boats include rod rental in the price of the trip, the rods they will try to have you use will be Penn 4/0 or 6/0 rigs with 60# to 130# test and a 16oz basic bait finder rig with two #2 hooks. This is one of the places where bringing your own gear will absolutely make or break your trip! While the gear provided will catch fish (mostly small triggerfish, vermillion snappers, and grunts), it will not usually produce the best fish of the trip. Since the Gulf is crystal-clear, the larger fish can be both line-shy and uninspired to eat the squid hunks provided for free by the boat. I bring three rigs when I fish the Gulf, and fish each differently (see HOW-Gulf below)

Now, obviously fishing more than one rig at a time could prove difficult! What I do is when the boat first stops, I fish with the 6/0, since most large grouper (another prized denizen of the reef) are caught within 15 minutes of hitting the reef. If I don't catch anything on it in 10 minutes, I switch to the 555 and fish it 10-15 cranks of the handle above the reef for amberjack and red snapper. After the boat is on the reef for 30 minutes, or in the late afternoon, I switch to the fly line and spinning rod to pick-up surface cruising snappers, king mackerel, and mahi-mahi in summer or fish the double jig rig in winter for red snappers and amberjack (as small snappers are released by the boat, some are often intercepted by king mackerel, barracudas, and amberjack in their struggle to make it back to the bottom, sort of a live chum). Also, in the summer and fall, take a couple of pieces of squid and toss them into the water and watch the pieces descend through the water. If the squid is intercepted by anything, rig up the jigs, cast them out (CAREFULLY, WITH AN UNDERHAND TOSS!) and retrive it with swift jerks for mahi-mahi, little tuny, and spanish mackerel.

THINGS TO REMEMBER:
Licenses are PROVIDED BY THE BOAT (included in the cost)
Squid is provided free, but buy a bag of frozen minnows or jumbo live shrimp (winter) at a local baitstore before boarding
Rod Rental is INCLUDED in the price of the trip
Most boats have only pre-packaged snacks and sodas on board-therefore bring a cooler with your own!
Drink lots of water, and dress lightly in the summer to avoid overheating.
Year-round wear sunscreen and reapply it every 4 hours to avoid sunburn (the Florida sun is merciless)
In the winter bring raingear and warm clothes-it does feel cold on the water and it is often rough.
back to top
---

How to?

Southern California Pacific Tackle and Rigging
RIG

Lures

Winter/Spring bait rigging

Summer/Fall bait
rigging

10#-20# Spinning-Penn 650/750/850/708Z/706Z
1/2oz-3oz Spoon (summer)
1oz-4oz UFO/Salas/diamond/Kastmaster
1oz-4oz Jig w/tail
drop loop w/2 hooks (#4-#2)& 8oz weight
anchovy or squid chunk
(only on shallow water trips!)
tie straight to line (#6-#2 for anchovy, #2-#1/0 for sardine) or add rubber core 1-2 foot above hook
use anchovy or sardine
Penn /Newell 555GS or 3/0 or 4/0 (20#-40# baitcasting-california live bait action rod)
1oz-4oz Spoon (summer)
2oz-8oz UFO/Salas/diamond/Kastmaster
1oz-8oz Jig w/tail
drop loop w/2 hooks (#2-#1/0)& 8oz -12oz weight
anchovy, sardine, or whole squid
tie straight to line (#6-#2 for anchovy, #2-#1/0 for sardine) or add rubber core 1-2 foot or torpedo 3-4 feet above hook
use anchovy or sardine
Penn/Diawa 6/0, 9/0, 12/0 (50#-80# baitcasting)
Trolling Lures (Zuckers/Rapala/etc.-summer)
8oz-32oz diamond/Salas/etc.
drop loop w/2 hooks (#1/0)& 16oz -36oz weight
anchovy, sardine, mackeral, or whole squid
ie straight to line (#2 for anchovy, #2-#3/0 for sardine,#3/0-7/0 for mackeral or chunk) or add rubber core 1-2 foot or torpedo 3-4 feet above hook
RIG

Lure Rigging

Bait Rigging
(Clams/Herring in all Cases)

20# Spinning-Penn 750/850/708Z/706Z
1oz-4oz bucktail, 4oz diamond jig w/bug
4oz-8oz drop loop w/2 hooks (#2) (bottom)
single hook fly line w/1oz weight (bluefish/mackeral)
Penn 555GS, 309M or 3/0 or 4/0 (20#-40# baitcasting)
4oz-8oz diamond jig w/bug+tail
6oz-16oz drop loop w/2 hooks (#2/0) (cod)
single hook fly line w/1oz weight (bluefish)
Penn 6/0, 9/0, 12/0 (50#-80# baitcasting)
8oz-36oz diamond jig or equiv w/bug+tail
6oz-16oz drop loop w/2 hooks (#2/0)
(cod)
straight to hook or light egg weight w/5 foot leader and 5/0 hook (tuna)
RIG

Winter/Spring Rigging

Winter/Spring bait

Summer/Fall Rigging

Summer/Fall Baits

20# Spinning-Penn 750/850/708Z
Double jig rig with 8oz bankweight
jigs tipped with fresh shrimp or squid
1/4 oz weighted fly line with stinger and using 25#-30# wire
(also bring several 1/4oz jigs if mahi-mahi are spotted)
1) Live minnow (mullet, cigar minnow, blue runner)
2) frozen cigar minnow, herring, ballyhoo
Penn 555GS or 309M (20#-25# baitcasting)
Sliding Baitfinder with 2/0 hook and 8oz weight
cigar minnow/herring/finger mullet or jumbo live shrimp
egg weight rig with 3 foot leader of 25-50lb florocarbon or mono leader and 2/0 hook(also bring several rigged yellow or black small trolling lures for the trip out)
1) Live minnow (mullet, cigar minnow, blue runner, pinfish)
2) frozen cigar minnow, herring, ballyhoo
Penn 6/0 (50# baitcasting)
egg weight rig with 5/0 hook and 15oz weight
live vermillion snapper (caught with the spinning rod) live pinfish, or frozen cigar minnow, mackeral, mullet, or ballyhoo
egg weight or sliding bottom finder rig with 3/0 to 5/0 hook and 12oz weight (bring a couple of large trolling lures rigged with 60# or better wire to troll on the trip out)
Live vermillion snapper, live mullet (6"-14"), live cigar minnow or blue runner bring a bait bucket with aerator to keep the bait alive
---

Costs

*=If the trip enters Mexican Waters add money for Mexican Permits, otherwise just the Calif. Non-resident Pacific Ocean License. Check California Fish and Game/Marine Resources Div. for Latest
**=For these trips I strongly reccomend bringing an additional rod of your own (20# class) Note: for tuna bring something in the 50# and 30lb class. The Landing websites will tell you exactly what you will need.
---

When?

Year Round in all Three Places!!!!!
---
See the map below.

---
Latest Reports | Fishing Articles | Fishing Tactics | Fish Ecology and Biology | Travel Articles | Fishy Fun | External Links | Shopping | HOME
---




LEGAL: ALL content ©1993-2015 Bryce L. Meyer. The term "Combat-Fishing" is a federally registered trademark. "Combat Fishing" when used in reference to travel information, fishing websites, fishing or travel books, or similar products as a brand is also a trademark. Fish and Pole logo is also a trademark.