Nav:HOME ---- Fishing Articles ---- A Good Day on the Choctawhatchee Bay Flats (YOU ARE HERE)
---
---
---
A Good Day on the Choctawhatchee Bay Flats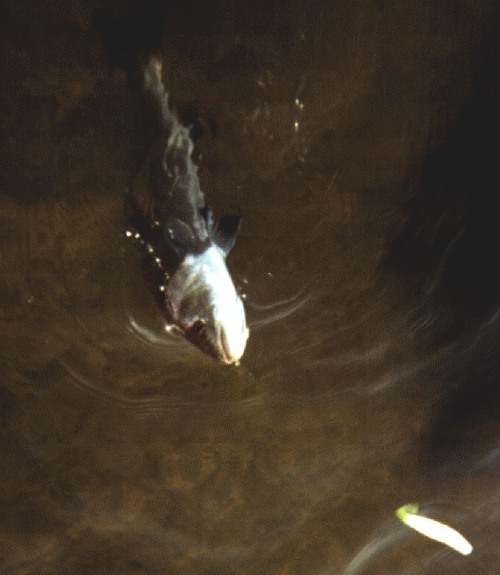 The shallow, salty, water rippled slightly from the early summer morning breeze, and the warm bay water laps at your belly button. As you shuffle slowly across the sand flat (toes down to dislodge and gently scoot any stingrays or crabs on the bottom), you see a series of dimpling and moving swirls up ahead. With a smooth motion, you cast your soft plastic twitchbait a meter up current from the swirls, and slowly begin to work the lure (twitch, wait, twitch, twitch, wait). Suddenly, the swirls disappear and

a large swirl engulfs your lure and runs for the horizon! Welcome to the sand flats at the northern edge of Choctawhatchee Bay and the magic of flats fishing. Thanks to the removal of inshore netting in Florida, the flats bristle in the spring summer and fall with Speckled Trout, Croakers, Redfish, Ladyfish, Mangrove Snappers,Jack Crevalle , Flounder, and numerous other fishes. Using and old set of tennis shoes or flats boots to wade with, a good set of polarized sunglasses, a long billed baseball cap, and a waterproof fanny pack or tackle vest, and 6-10lb class gear (or 5-7wgt weight fly rod) anyone can wade out on the 2-3 foot deep flats to catch these fish.
The first aspect on flats fishing here is timing. The fish will only be on the flats if there is food, and if the temperature, salinity, light level, and air pressure are comfortable (to the fish!). The best way to guarantee this is to fish during an incoming tide, near sunrise, or near sunset. If a cold front approaches, fish before the front arrives, and stop when it arrives. While a light breeze is aok, a stiff breeze will hurt fishing. Make sure that the water temperature is above 75 for the best fishing.
Next, decide exactly which lures and tackle you really need. You can only carry out one rod, and whatever will fit in the pockets of a vest or fanny pack. The lures that worked best for me include silver and gold spoons, 4"-6" floating and floater/diving plugs (red/white, chartreuse, silver), jigs with curly grubtail jigs, and finesse baits like the shrimp/crab imitaions, and soft plastic twitchbaits (Very successful) all work. For baits, use a cast net or buy before wading out, live shrimp, fiddler crabs, finger mullet (4-6 inches), menhaden, threadfin herring, glass minnows, or killfishes (bullminnows). Freefloating baits with a one foot 20lb mono leader above a 2/0 bronzed hook, or the same leader and hook below a weighted popping cork work well. For oyster beds, patches of open sand near the grass beds, or near rocks use an egg weight rig with a 20lb mono leader, a #2 to 2/0 hook, and 1oz weight will work. Also remember to bring a floating cooler if you plan to keep any fish (hanging fish on a stringer may attract sharks!), a floating bait bucket to keep your bait in, a set of hemostats (forceps) and needlenose pliers to remove hooks. For the fly angler, popppers, streamers in silver, chartreuse, and/or white and shrimp or crab flies tied on #2-2/0 hooks will work well. A 6-12lb class saltwater spinning rod or bass-class baitcasting reel will work, as will a 6-8 weight fly rod with a floating or intermediate line will catch most of the species you encounter.
Finally, how you wade on the flats, and how you present your lures/baits will determine what, or if, you catch. The hat and polarized sunglasses will allow you to look for underwater and surface features, in particular sea grass, oyster beds, rocks, drop-offs, and schools of fish. First look for grass beds near drop-offs, since these are the first spot larger fish will occupy. Position yourself facing the drop-off and cast up current , twitching your lure as it sinks, then fan casts out from there. Follow the edge of the grass bed and cast the surface lures and twitch baits over it and into any sand patches in the grass. Cast spoons, lipped plugs, and crab flies near the edge of the grass bed over the sand and retrieve swiftly. Also, cast ahead of any schools you see and twitch the lure swiftly. Near rocks or near oyster beds
, cast parallel to the obstruction, then walk out from the bed and cast to it. For baits, use a popping cork rig over the grass, and use the egg weight rig over drop-offs, parallel to oyster beds and rocks. (Click here for an illustration of these methods). Primarily, speckled trout and redfish like so
will be the most likely catches. Usually I pick up the trout over the grass and the reds near rocks and oysters, but this is not a hard rule. Occasionally, a Jack Crevalle will decide it wants my twitchbait or plug, and usually will end up with it after a high speed five minute run, but they are an exception. Ladyfish are a blast if you find them, like this one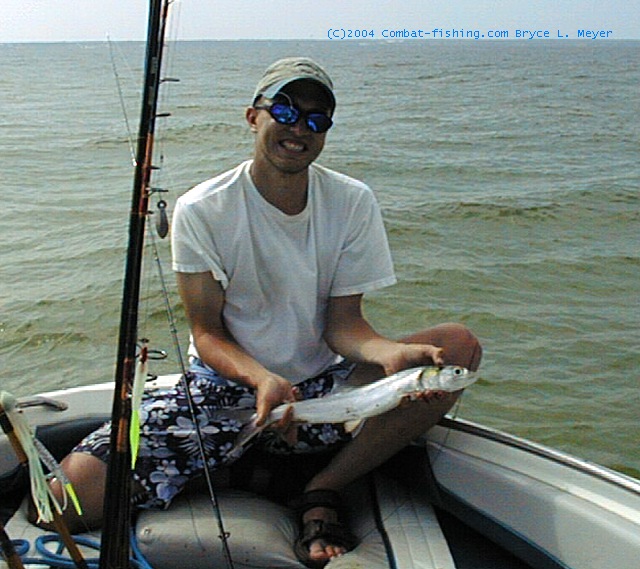 . Baits left too long on the bottom will become dinner for rays, hardhead and gafftopsail catfish, and gar (yes, the freshwater fish). Smaller baits will get pigfish, puffers, and pinfish. A slowly works jig without float along sandy patches may get flounder.
While on the flats fish aren't the only thing you will see. Diving birds (like the friendly cormorant pictured below), Bottlenosed Dolphin, crabs, sharks, and rays will also be out there, and can add to a wonderful fishing experience!
---
How to Catch Them?
LURES: Twitchbaits, Lipped and popping plugs, and spoons. Flies: weighted/chain eye streamers in white and chartreuse, and poppers.Flywise: 7wgt-8wgt: 1) Clouser minnow, 2) Crazy Charlie, 3) Saltwater Popper, 4) Zonker ---Flyfishing Flies are Similar to Homosassa or Tampa selections
BAITS: Bullminnows, glass minnows, finger mullet, menhaden, and best of all-live shrimp or live glass minnows
RIGS: Egg weight rig with 30# florcarbon leader if ladyfish, spanish mackerel, large jack crevalle, or bluefish are about,otherwise 8lb florcarbon 1/2 oz egg weight, and #4-2/0 hook (depends on bait) live bait hook, or popping cork rig.
TACKLE: 6-15lb class spinning, bass-class baitcasting, 5-7 weight flyrods.
Back to Top
---
How Much?
Bait: usually inexpensive for a dozen live shrimp, though a quarter inch mesh cast or dip net will catch glass minnows which work VERY well
Licenses: See the Florida Conservation Commission website to buy and to check all the regs
Back to Top
---
When?
Late April to Early November Morning, evening, and on an incomming tide.
---
Where am I?
There are lots of good flats in this bay, especially the ones near:
---
---
Latest Reports | Fishing Articles | Fishing Tactics | Fish Ecology and Biology | Travel Articles | Fishy Fun | External Links | Shopping | HOME

LEGAL: Trademarks for lures properties of their respective owners. ALL content ©1993-2015 Bryce L. Meyer. The term "Combat-Fishing" is a federally registered trademark. "Combat Fishing" when used in reference to travel information, fishing websites, fishing or travel books, or similar products as a brand is also a trademark. The Camo Fish and Pole log is also a trademark. Not liable for any advice provided.