Nav:HOME ---- Fishing Articles ---- Fly Fishing in Old Man River(YOU ARE HERE)
---
Fly Fishing in Old Man River
By Bryce L. Meyer
What follows below is not for neither the purist nor close-minded fly rod flipper. In other words, if you are restricted only to tropical grass flats or bubbling mountain brooks, this article isn't for you.  However, for those who like to fish for very challenging, hard fighting fish, in odd locations, read on!
I know a waterway that is very rarely fished with the long rod, and has dozens of fly munching species, from small easy to catch scrappers, to monster, picky, rod-busters. This water requires the utmost in adaptability, and can use every type of line and fly in your arsenal, or just the 6wgt $40 combo.  Where is this fly fishing arena of challenge? Hop in the car, and look for the Gateway Arch! The Saint Louis region (+/- 100 miles) is loaded  with an immense variety of fishing, but the most under-appreciated fly fishing centers on tributaries, side-waters, and channels of the Mississippi and Missouri Rivers. 
First, drop the preconceived notions that only certain species are fly worthy. While I am a fly fisher who has bested trout, salmon, mahi-mahi, king mackerel, and the rest of the glamour list, a wide species list awaits my rod in the rivers.  I will say that if you start with only one fly, let it be a 1/80th oz black jig head wrapped with two layers of small flame red chenille.  Fish this four feet under a nickel size strike indicator on 4lb fluorocarbon tippet,  just slowly twitch it, and most of the fish below (you name it: catfish, smallmouth, white bass, herring, drum, carp, sauger, etc.) , and a few others not mentioned, will hit it. That said a few other methods are described.
For those who want fast action with trout-sized fish, there are many.  As an example the Skipjack Herring is probably one of the most overlooked species, and ranks for me above many salmonids.
  From May to October, the Skipjack runs wild in fast tail waters such as behind the Chain of Rocks, Alton Dam, and Saverton Dam.  A white or florescent yellow streamer or zonker will get pounded by this scrapper, who fights very much like a mini-tarpon, and a few can break a 2lb tippet. Mixed with the Skipjacks are the White Bass
, and the rarer Goldeye. 
Stand on the rip-rap near the racing white-water, and look for fish blasting the surface, the use a 4-6wgt floating or intermediate line to cast a streamer such as a bead-head #6 woolly bugger upstream.  Let the fly sink for a few seconds then retrieve the fly with a vengeance!  Fast strips are the rule, and be ready to release the fly line if the quarry is larger then the 2# tippet.  I have lots many a fly to the largest Skipjacks and Hybrid Striped bass by holding too tight and not keeping the line free enough run out.  Look for this fast paced action at sunrise and sunset.  Add in the option of a drive to the Carlyle Lake Spillway, and white bass will be the primary biters, with an occasional Sauger and Crappie tossed in. (Note: more sauger and walleye in late March-early May then white bass.)  Use a weighted streamer, or an un-weighted wooly booger with a small split-shot a foot above the fly, and fish with slower, longer pulses.
Let say I want to catch some larger specimens that will make my drag sing?  Tie a few heavy wire versions of caddises, hoppers, and a few larger zonkers, and break out the heavier fly rods.  The hottest part of the summer brings the river to lower, clear, levels, and exposes many sand and gravel bars.  To use those dries, look in the slower waters such as the Cuivre River, Columbia Bottom, again in the Carlyle Spillway, and in many sloughs, and behind wing dikes for the Asian Carp Invasion: Bighead and Silver Carp.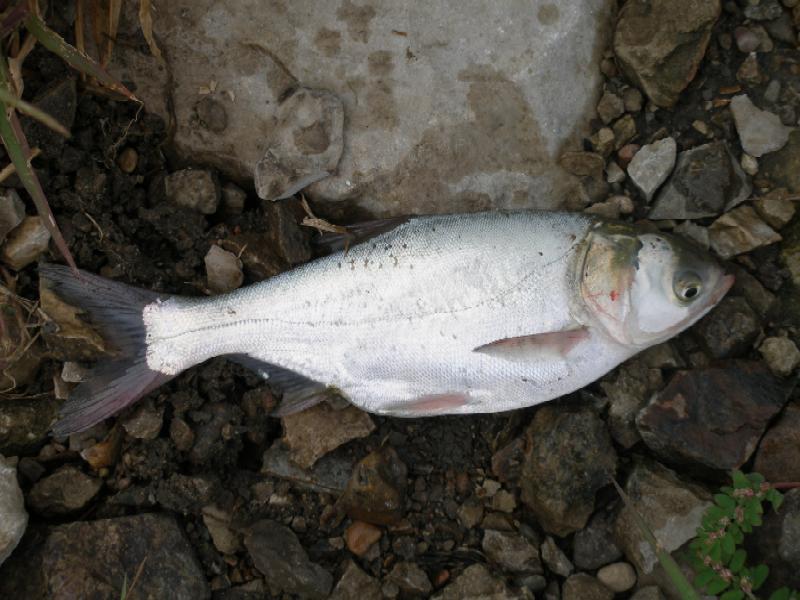 Both species are far from easy, and will spook from a sloppy drift or slapping cast.  A 7wgt armed with a floating line, and a long 4lb-10lb tippet are the tools here.  Using polarized sunglasses, look for the gulping schools of Carp (and maybe a few Buffalo), make a very careful cast up-current (or ahead of the school's path) and allow the fly to sit just under the surface.  Make sure neither the fly line nor leader will brush the fish! The take is soft, as the fish will essentially inhale a well presented fly, and avoid a less than perfect presentation. Once eaten, set the hook carefully and prepare for your line to move.  A 15lb Bighead will expose your backing in a hurry, and make a few spectacular jumps before you get a shot at landing one.  Ditto for a Buffalo or Silver Carp.  While I have landed a few on sub-7wgt gear (after a 20 minute ordeal), the heavier rods will make landing the fish far more feasible.  Oh, and keep those Carp, as they are both tasty to eat, and a detriment to native species.  As for those zonkers, flip those into current eddies around gravel bars (such as the Illinois Side of the Chain of Rocks) or behind dams (Saverton Dam is a prime example), and work the zonker with a hopping motion along the bottom.  I personally use a two-handed fly rod with sinking line, but floating line with a few split-shots will also work for your target.  What target you say? The often maligned Freshwater Drum.  Double-digit fish are not unusual on the zonker, though most will run from one to six pounds,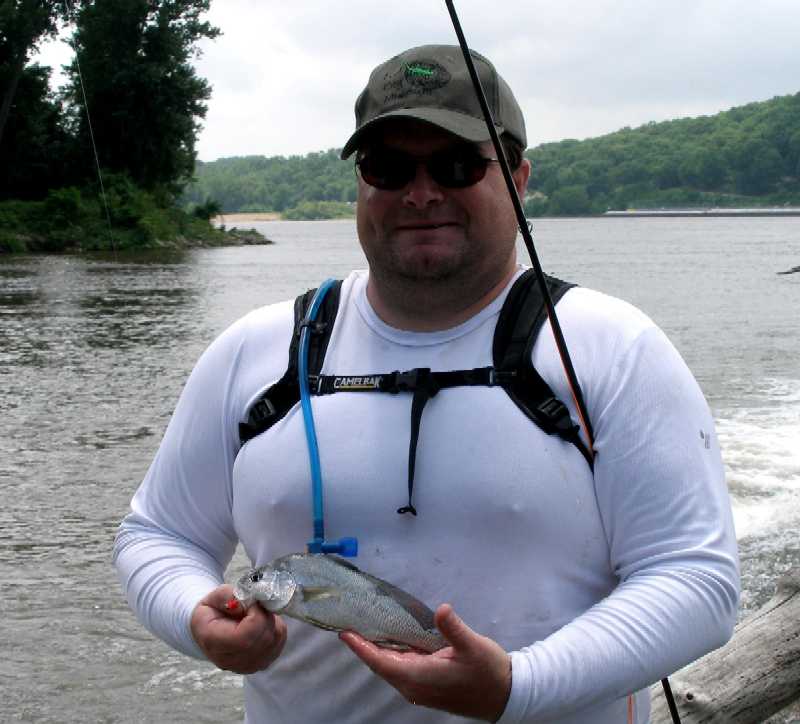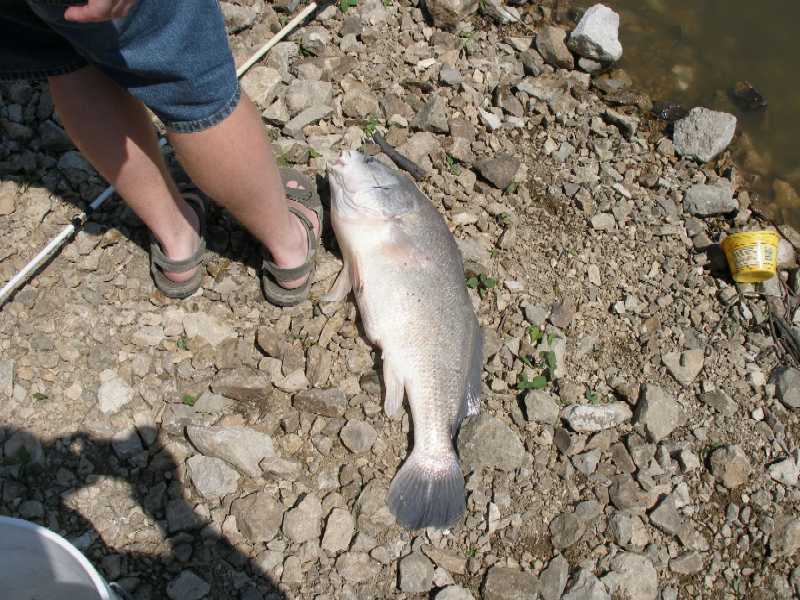 and will pull drag.  Accidentally, the zonker in these same spots may encounter a smallmouth bass, hybrid striped bass, or channel catfish.  Oh, one more use for that big fly rod.  In the absolute 'doggiest days' of  the humid Midwestern summer, tie a 12" 25lb monofilament bite tippet and a bass-sized popper and head to the nearest slough.  Any slough will do, though Howell Island, Sand Island, and Cuivre Island are my most common spots.  Wait till around noon, and look for basking Longnose, Spotted, and Shortnose Gars.  Yes, gar.  Flop the popper on the surface with a vengeance, and yank it with violence.  The gar will happily chase it down and destroy it, and make spectacular leaps to try to dislodge it.  In lieu of a popper, an orange strike indicator four inches above a streamer will do.
For the fly fisher who is really patient, and is after the most difficult quarry, I add a few more species to your target list: redhorse, shovel-nosed sturgeon, common carp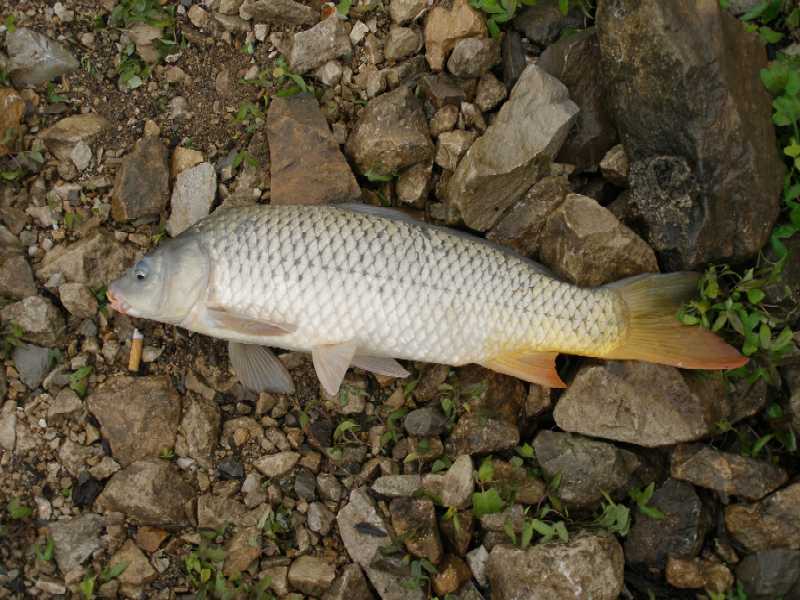 , small mouth buffalo
, and quillbacks.  Nymphs are the order here, with #10 caddis pupae, chenille bugs/jigs, glow-balls, and scuds as my choices.  Rig a four-pound tippet, and put the nymph below a few small split-shots. The nymph must stay in contact with the bottom!  Look for gravel bars with moderate current, and drift the nymph with a careful mend.  The take is light, but the fish may be large, often from one to eight pounds.  Again, be ready to play the fish, as these fish know how to use the current. 
Overall, an open-minded fly fisher has a bounty of opportunity in the big rivers of the Midwest.  Use lots of caution on these big waters, or you will end up as a headline in the newspaper.  That said, pull out the rods you were saving for the Keys, ready those streamers and zonkers, and enjoy the fish out your own backdoor.
A few selected river worthy flies
---
Latest Reports | Fishing Articles | Fishing Tactics | Fish Ecology and Biology | Travel Articles | Fishy Fun | External Links | Shopping | HOME
Likely Fish:
---
LEGAL: ALL content ©1993-2015 Bryce L. Meyer. The term "Combat-Fishing" is a federally registered trademark. "Combat Fishing" when used in reference to travel information, fishing websites, fishing or travel books, or similar products as a brand is also a trademark. Fish and Pole logo is also a trademark.